Magnolia Rosemary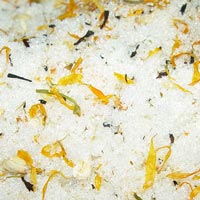 Magnolia Rosemary – Therapeutic Minerals Body Soak
A spiritual blend of Chinese Magnolia and Indian Basil essential oils answers all that is asked while empowering mystic herbs & mineral salts renew all that is required.
Our therapeutic mineral body salt blends provide numerous beauty and health benefits including increased energy, muscle and joint pain relief, improved circulation, toxin removal, stress relief and more! Revitalize both mind and body!
TIP:
Combine a matching soap, bubbling bath melt, bath and body oil, skin butter, body scrub and room fragrance in the same  aroma to create your own Magnolia Rosemary scent line.
| | |
| --- | --- |
| | DIVIBS |
| | Detoxing, Energizing, Stress Relief, Muscle Ache and Cramp Relief |
| | All |
| | Soothing, Relaxing, Uplifting |
| | Sweet, Floral, Herbal |
| | All Ages |
| | Add to running bath, immerse yourself and enjoy. May also be used as an exfoliating body scrub |
| | Epsom salt ( USP grade ) , kaolin clay, essential oils of ylang ylang, basil, magnolia, orange, lavender & rosemary, black tea, calendula, jasmine flower, oatmeal |