Magnolia Rosemary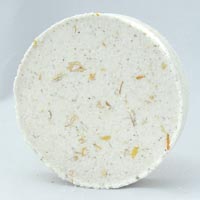 Magnolia Rosemary – Natural Bubbling Bath Melt
A spiritual blend of Chinese Magnolia and Indian Basil essential oils answers all that is asked while renewing all that is required.
Immerse yourself in a gentle frothing fountain of luscious skin softening Shea Butter and certified organic Sri Lankan virgin Coconut oil while enchanting elixirs of aromatherapeutic essential oils and organic herbs and flowers embrace you in their comforting arms.
TIP: Combine a matching soap, mineral body salt, bath and body oil, skin butter, body scrub and room fragrance in the same  aroma to create your own Magnolia Rosemary scent line.
| | |
| --- | --- |
| | DIVIBM |
| | Skin Softening, Relaxing |
| | All |
| | Soothing, Relaxing, Uplifting |
| | Sweet, Floral, Herbal |
| | Ages 3 and above |
| | Add to running bath, immerse yourself and enjoy. |
| | Shea Butter, Magnolia & Rosemary essential oils |
| | Baking soda, citric acid, kaolin clay, shea butter, virgin coconut oil*, essential oils of ylang ylang, basil, magnolia, orange, lavender & rosemary, black tea, calendula, jasmine flower, oatmeal * certified organic |
| | Bars - 85g / 3oz round ( Dimensions - 6.8 x 2cm ) |
| | Unpackaged bulk bars, Labeled bars, Labeled bars in cardboard gift |
| | Shelf life is up 16 months or more if stored in cool, dark and dry conditions |
| | Wholesale, private label, custom and bulk natural and organic bath bombs, fizzies, bath melts |
| | As these will be your own branded products feel free to create new product names to suit your image or theme if desired. Examples - Magnolia Blossoms, Oriental Dreams, Magnolia Crush, Special M, Goo Goo Doll, Rollin in the Deep, In Living Colour, Sweet Dreams, Rehab, Daydream Believer |