Frankincense Sage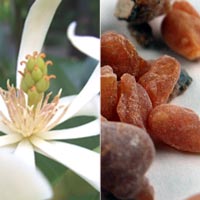 Frankincense Clary Sage – Natural Bath & Body Oil
Subtle and mysterious our exotic floral blend of African Frankincense and Russian Clary Sage essential oils will capture your imagination and your heart with its delicate whispers.
Highly nourishing and vitamin rich Sweet Almond, Green Tea Seed and extra virgin Olive oils unite in harmony to transform and beautify your skin for a sinfully smooth more youthful appearance while aromatherapeutic essential oils feed both senses and spirit.
Regular use will result in noticeably softer, smoother, healthier skin while minimizing the effects of aging. Ideal for very dry and irritated skin conditions such as eczema, urticaria and psoriasis.
TIP: Combine a matching soap, bubbling bath melt, skin butter, mineral body salt, body scrub and room fragrance in the same aroma to create your own Magnolia Frankincense scent line.
| | |
| --- | --- |
| | WFBO |
| | Extra Rich Moisturizer, Irritated Skin Relief, Age Prevention, Eczema Relief, Damaged Skin Repair, Sunburn Relief, Insect Bite Relief, Wound Healing |
| | Normal, Dry, Sensitive, Irritated, Eczema, Psoriasis, Urticaria |
| | Clarifying, Awakening, Sensual |
| | Green Floral, Oriental, Exotic |
| | All Ages |
| | Add a capful to running bath, massage into damp body right after showering or use as an aromatherapeutic massage oil. |
| | Sweet Almond, Green Tea Seed, Olive, Magnolia & Frankincense essential oils |
| | Prunus Dulcis (Sweet Almond) Oil, Olea Europaea (Olive) Oil, Helianthus Annuus (Sunflower) Oil, Camellia Oleifera (Green Tea Seed) Oil, Simmondsia Chinensis (Jojoba)* Oil, Azadirachta Indica (Neem) Oil, Boswellia Carteri (Frankincense) Oil, Cupressus Sempervirens (Cypress) Oil, Michelia Alba (Magnolia) Oil, Citrus Paradisi (Grapefruit) Oil, Eucalyptus Radiata (Eucalyptus)* Oil, Salvia Sclarea (Clary Sage)* Oil, Rosmarinus Officinalis (Rosemary) Extract * Certified Organic |
| | 14ml / 0.44floz, 45ml / 1.5oz, 95ml / 3.2floz, 1L / 33.8floz |
| | Amber, cobalt blue or white glass 'boston' style bottles with outer mahogany colour paper can or aluminum bulk can |
| | For custom blends and ingredients just let us know what you have in mind and we'll do our best to help bring your ideas to life |
| | Shelf life is up 18 months or more if stored in cool, dark and dry conditions. Use within 4 months of opening for optimal results |
| | Wholesale, private label, custom and bulk natural and organic bath and body oil |