Welcome to the Sensually Silky World of 'Cold Crafted' Natural Soap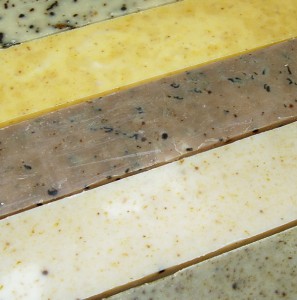 If you haven't already indulged yourself in the silky caress of our industry leading natural "Cold Crafted " soaps then we invite you to experience the natural advantage for yourself. We're confident you'll agree… there really is a world of difference.
Crafted using the 'time honored' traditional practice of low temperature ( Cold Process ) soapcrafting we begin with skin softening extra virgin Andulucian Olive oil, raw Shea Butter from Ghana and other fresh, specially chosen plant oils and gently saponify them in a highly pure alkaline solution. As our proprietary extra gentle formulation thickens and cools pure essential oils, flower extracts and other beneficial ingredients are added to produce a final glycerin rich product that is as magical in appearance and scent as it is gentle to the skin.
As only low temperatures are used in this artisian process the therapeutic benefits of each natural ingredient are retained in the final product delivering benefits that extend far beyond simple cleansing. Over the years we received countless testimonials from customers suffering from eczema, urticaria, acne and other skin conditions that have found lasting relief after incorporating our unique soaps into their daily skincare regimen.
Key Benefits
100% natural and organic
 Can help alleviate and relieve a wide number of skin condiitions
Extra gentle silky lather delivers a unique sensory experience
Aromatherapeutic essential oil based scents benefit mind and body
Tremendous value – lasts twice as long as comparablely sized commercial soaps
No minimum order requirement
Choose from our wide variety of in-stock soaps to quickly start or expand your own line or let us help bring your own unique creations to life.
Used by celebrities and royalty alike our luxurious Cold Crafted natural soaps truly are the crème de la crème of the soap world.
What more can we say… just add water!