Licorice Oatmeal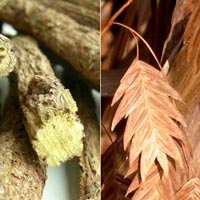 Licorice Oatmeal – Extra Gentle Facial Beauty Mud
An extra gentle, deep cleansing and purifying mask treatment featuring Chinese Licorice and Oatmeal that absorbs excess oil and impurities, soothes inflammation and reduces the appearance of blemishes. Leaves your skin bright, refreshed and more youthful looking.
Use once a week to exfoliate, detoxify and remineralize, lift and firm,  fade wrinkle lines, soften and smooth rough skin and brighten dull dry complexions.
TIP: Use in combination with one of our gentle facial cleansing soaps, hydrating floral water skin tonics and beauty serums to optimize your daily skin care health regimen.
| | |
| --- | --- |
| | LOFBM |
| | Detoxify, Remineralize, Exfoliate, Anti-Wrinkle, Lift & Firm |
| | Normal, Extra Sensitive, Dry, Irritated |
| | Fragrance Free |
| | Ages 12 and up |
| | Mix with enough hot water to form a smooth paste. When warm, apply to facial area while avoiding the eyes. Let dry for 10 minutes then rinse face with cool water to remove. |
| | French Clay, Aloe, Green Tea, Licorice and Oatmeal |
| | French Montmorillonite clay, Kaolin clay, green tea extract, aloe extract, licorice extract, oatmeal |
| | 9g,13g,50g, 100g, 200g and 1kg bulk sizes |
| | Glass tubes, packets, paper cans, date wood jar, amber or white glass jars |
| | For custom blends and ingredients just let us know what you have in mind and we'll do our best to help bring your ideas to life |
| | Shelf life is up 16 months or more if stored in cool, dark and dry conditions. Use within 4 months of opening for optimal results |
| | Wholesale, private label, custom and bulk natural and organic facial clay |